Bristol, Connecticut resident spends over 5 months volunteering for Salvation Army in Puerto Rico
CAGUAS, PUERTO RICO – Bristol, CT resident Nicole Roy is typically a volunteer at Southington Community Services/Salvation Army Central CT Service Unit in her role as a volunteer in the food pantry. Since December, however, Roy has been volunteering with The Salvation Army's Emergency Disaster Services, supporting Hurricane Maria relief efforts.
Upon seeing the destruction on the island in the media, Roy decided to make a monetary donation but felt the need to contribute in a more meaningful way.
"I really wanted to come and help this area in any way that I could possibly be utilized," Roy recalled. So, she went through the requirements to become a Salvation Army volunteer and was deployed to Puerto Rico by The Salvation Army's Emergency Disaster Services Director. Once she arrived, she spent time getting orientated into the operations and logistics at The Salvation Army's warehouse located in Caguas.
Each day since then has been filled with rewarding experiences, especially at operations in remote areas of the island. "When you go out into the field and see the people, you feel the appreciation, the gratitude and the overwhelming sense of hope, even from a simple box of food," Roy said. "We are going into some of the hardest hit areas, but no matter where you go, it's immensely rewarding to do."
Week one in Maunbao, Roy lost her heart to Puerto Rico. "I definitely fell in love with the people," Roy said. "Their sense of care and wanting to love you and take you into their homes and have you be a part of their family is like nothing that I have ever seen." Being a Salvation Army disaster volunteer has been a very humbling and powerful experience for Roy. "Their love for you and their respect for The Salvation Army – when you wear a shield on your shirt and you drive into these towns, they are cheering on balconies and waving to you. It's a sense of love and honor I've never received with anything else," Roy said, smiling. "I'm very proud to be associated with The Salvation Army. It's almost like being an ambassador when you go in to these towns and give supplies to these people – that is a gift that is unparalleled to anything else I've ever had in my life."
In March, Roy, along with a team from The Salvation Army, traveled to Moca, located in northwest Puerto Rico, to deliver a generator to a family in desperate need. Living in a mountainous area, the family has not had a consistent source of power for the last six months.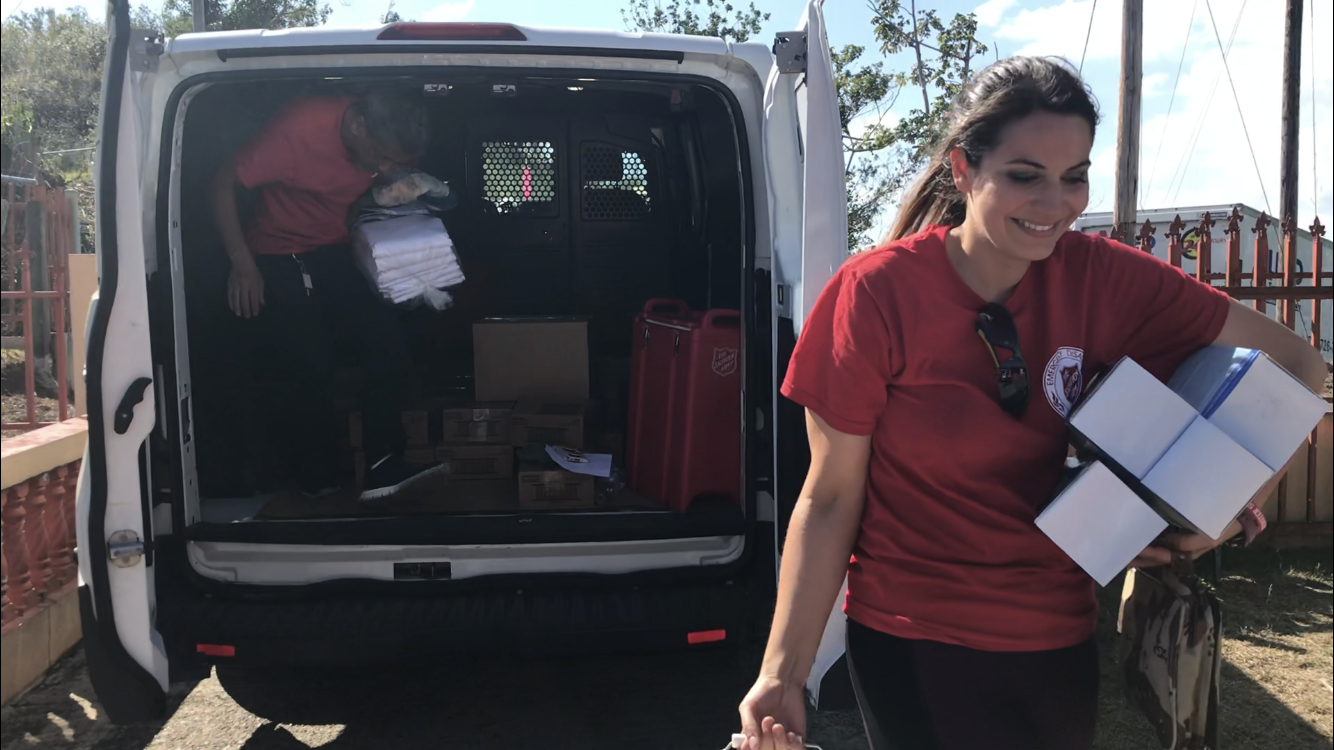 The couple's nine year old son has severe medical issues and required power for a respirator. "He was in great duress and needed to be hospitalized several times and was very sick," Roy said. "You could definitely see the strain on his parents, on his family and on him." The generator provided a sense of hope and peace of mind to this family who had been struggling for over six months. The boy's parents knew what this generator meant, and it showed in their hugs and tears.
Recently, Roy was promoted to The Salvation Army's Incident Commander out of its bunker in Caguas, Puerto Rico. Having helped in the relief efforts for months, Roy knew her way around the island and knew what needed to be done. Running Incident Command is demanding work. Long hours each day are filled with arranging operations, and ensuring needs are met in the hardest hit areas of the island, some still remaining without power and running water.
The day-to-day life of those without power is challenging. Lack of power could mean a family has no way to cook or do laundry. It could mean water pumps don't work and they need to hike to a stream to bring back buckets of water to bathe and flush their toilets. "I cannot imagine how fatigued they must be at this point. The frustrations they must feel," Roy said. "And they're still so kind to one another. If one person runs out of something, they're like 'come over, I made rice. Come on, we'll share.' Who does that?"
News outlets move on to other topics of the day, but it's imperative to the well-being of the people of Puerto Rico that they are not forgotten. That they are not left behind. Citizens with medical conditions continue to perish due to lack of electricity. "This is still so important to these people, to these children that are in dark, to the people with medical needs, to the elderly that are sick, that are getting sicker," Roy said.
Although many of the people in Puerto Rico continue to struggle, there is a glimmer of strength and hope. "Even though there is a lot of darkness around them, they are really bright inside. It's a strength that I have never seen in a group of people," Roy explains. "A resilience that I don't know I would have had if I hadn't experienced it and I just hope that keeps going."
Through it all, Roy persists, knowing her time spent in Puerto Rico can be the difference between hopelessness and hope. "Even now, less than an hour ago. I got a plea from a military veteran, an ex-marine who said 'please, I think people have forgotten about this town.'" The ex-marine called The Salvation Army, looking for help for his town, located on the far east of the island that has not received support since the hurricane.
"He's begging us," Roy said. "They've been without light since Irma. They are really getting desperate. It's late, but I'm responding." Roy plans to keep going, finding remote communities still in need of help and support. For Nicky Roy, and volunteers like her, they are the light for those in need.
The Salvation Army has been in Puerto Rico long before Hurricane Maria and will remain, continuing its important mission. Long-term recovery efforts are being planned and will get underway soon. These efforts, made possible by the generosity of donors, will provide families with a sense of longevity within their homes and a sense of normalcy.
Learn more about The Salvation Army's Emergency Disaster Services