Learn how you can help those impacted by Hurricane Michael

Read about how The Salvation Army is making an impact in communities every day

in Connecticut and Rhode Island

Come join our team of volunteers

Learn more about Easy IRA Gifts for Donors Age 70½ and Older.
---
Hurricane Michael Response
---
Serving Rhode Island Since 1884!
Throughout Rhode Island's 39 cities and towns, The Salvation Army operates numerous programs that seek to meet the needs of its neighbors, including: mobile community response, senior programs, academic enrichment, pastoral counseling, social development, recreational programs for children ages 6 to 12, emergency food and material assistance programs, an Adult Rehabilitation Center, holiday basket and toy distribution programs, and Corps Community Centers, which provide faith-based family and youth programs for their local communities. The Salvation Army's Service Extension program also operates in suburban and rural locations where no Corps of The Salvation Army are maintained. These Service Units provide comprehensive emergency assistance for people in these communities.
---
Recent News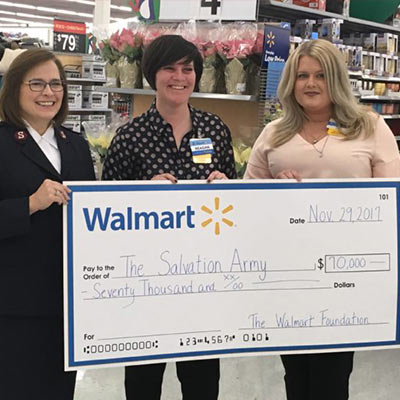 Walmart Foundation gives $70K to R.I. Salvation Army to launch Getting Rhode Island Healthy program
CRANSTON - The Walmart Foundation presented the Salvation Army of Rhode Island $70,000...

Read More
NBC10 Sinclair Cares raises funds for Hurricane Harvey Survivors
Hurricane Harvey has caused widespread damage across Texas. Salvation Army disaster teams from across the...

Read More
---
Help Us Help Others
Whether you contribute financially, donate goods, give your time, or support us through social media, with your help, The Salvation Army in Rhode Island can continue to reach out to individuals and families to offer a hand-up, not a hand-out. Please contact us if interested in supporting our efforts or if you are in need of assistance.
Our Rhode Island State Office
34 Commercial Street, Cranston, RI 02905
(401) 490-0240 Fax: (401) 490-0185
Serving: Rhode Island.
---
Rhode Island State Office Coordinators
Majors Kathleen and Steven Stoops
Email: Kathleen.Stoops@use.salvationarmy.org Steven.Stoops@use.salvationarmy.org
---
Support The Rhode Island Salvation Army
Text GIVERI to 71777 or click the Red Kettle Below!
---
Volunteer Today!
---
Our Rhode Island Programs
Please click any of the below for more information:
---