Serving Newport Since 1889!

The Salvation Army's Newport Corps has been a fixture of the community for 130 years. Originally established 1889, the Corps opened up on Broadway Street, but would eventually move to its current location in 1974. Below is some additional information about some of the programs we provide. For more information regarding these or any of our programs, please do not hesitate to contact us.
---
About Our Programs
Feeding Programs
The Salvation Army's Soup Kitchen serves nutritious meals to those in need every Friday and Sunday from 1:00 – 2:00 p.m. The food pantry is available to eligible individuals residing in Newport County on Mondays, Wednesdays and Fridays from 9:00 a.m. to 12:00 p.m.
Food Pantry
Open to families and individuals who are residents of Newport County. It has been a staple service of The Salvation Army for many years. We believe that all adults deserve the dignity of choosing what foods they want for themselves and their families. Customers may "shop" the pantry once in a 30-day period.
Holiday Programs
With the help and generosity of businesses, schools, social groups, churches, and individuals, we were able to provide happiness to those in need during the holiday season. We distribute Thanksgiving baskets and Christmas toys each year. Please call in September to find out the dates for signups, which take place every October. We also look for employees and volunteers each year for our Seasonal Kettle Campaign. Full day or half-day opportunities are available. Please contact Lieutenant LeNissa Rivera for more information by clicking on her name or calling the office at (401) 846-3234.
Heating Assistance/Clothing Vouchers
When funds are available, energy assistance is given to those that do not qualify for the state energy program and clothing vouchers are offered on an emergency basis.
Kids and Teens Character Development Program
Featuring: self-esteem lessons, team building, sports, arts and crafts, literacy, homework help, a hot meal, and much more!
Summer Camp
Camp CONNRI is situated on 272 acres of rolling hills in Ashford, Connecticut. Campers enjoy a wide variety of activities for a week, including: swimming, hiking, fishing, boating, baseball, softball, basketball, volleyball, nature studies, arts and crafts, and much more. Children must be between the ages of 8-12 at the time of camp. Please check with us each March to obtain an application.
---
Weekly Schedule
Sunday
10:00 a.m. – Sunday School
11:00 a.m. – Worship Service
12:30 p.m. –Corps Cadet/Junior Soldier Classes
1:00 p.m. – 2:00 p.m. – Soup Kitchen
Monday
9:00 a.m. – 12:00 p.m. – Food Pantry
Tuesday
4:30 p.m. – Dinner
5:00 p.m. – 7:00 p.m. – Music Classes (including Brass Band, Dance, Music Theory, Singing Company)
7:00 p.m. – 8:00 p.m. – Club 3:16 (Scouting Programs)
Wednesday
9:00 a.m. – 12:00 p.m. – Food Pantry
5:00 p.m. – Bible Study
6:00 p.m. – Women's Ministries
Friday
9:00 a.m. – 12:00 p.m. – Food Pantry
1:00 p.m. – 2:00 p.m. – Soup Kitchen
---
---
Our Newport Location
51 Memorial Boulevard, Newport, RI 02840
(401) 846-3234 / Fax: (401) 846-3922




Serving: Adamsville, Gould Island, Jamestown, Little Compton, Middletown, Newport, North Tiverton, Portsmouth, Prudence Island, and Tiverton.
---
Newport Corps Officer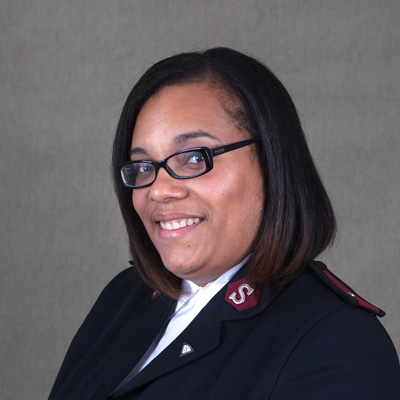 Captain L. LeNissa Rivera
Email: LeNissa.Rivera@use.salvationarmy.org
---
Support The Greater Newport Salvation Army
Click the Red Kettle Below!
---
Volunteer Today!
---
Proud Rhode Island Community Food Bank Partner
---
Help Us Help Others
Volunteers are always welcome! All you need to do is fill out the required paperwork. Please call or come in weekdays 9:00AM to 2:00PM.
Currently, The Salvation Army needs volunteers during the day in the Food Pantry and for general help, Soup Kitchens, with the Kids and Teens Character Development Program, and to assist especially with the Food Pantry.
---
Doing The Most Good!
Whether it's embracing the homeless, uplifting the abused or abandoned, training and mentoring the disadvantaged, providing character building programs for youth, or assisting the displaced or elderly, The Salvation Army's goal remains the same: serving the most people, meeting the most needs, DOING THE MOST GOOD!
---