---
Rhode Island State Office Coordinator
Major Wendy A. Kountz
Email: Wendy.Kountz@use.salvationarmy.org
---
Program/Development Officer
Major Robert S. Kountz
Email: Robert.Kountz@use.salvationarmy.org
---
Our Rhode Island State Office
34 Commercial Street, Cranston, RI 02905
(401) 490-0240 Fax: (401) 490-0185
Serving: Rhode Island.
---
Our Rhode Island Programs
Please click any of the below for more information:
---
Support Our Mobile Red Kettle!

Text GIVERI to 71777, Click the Link Above, or Use the Form Below!
Help The Salvation Army serve Rhode Island by donating or sharing our Mobile Red Kettle or hosting your own! This and volunteering are the best ways to help us meet needs this holiday season and throughout the year.
---
Serving Rhode Island Since 1884!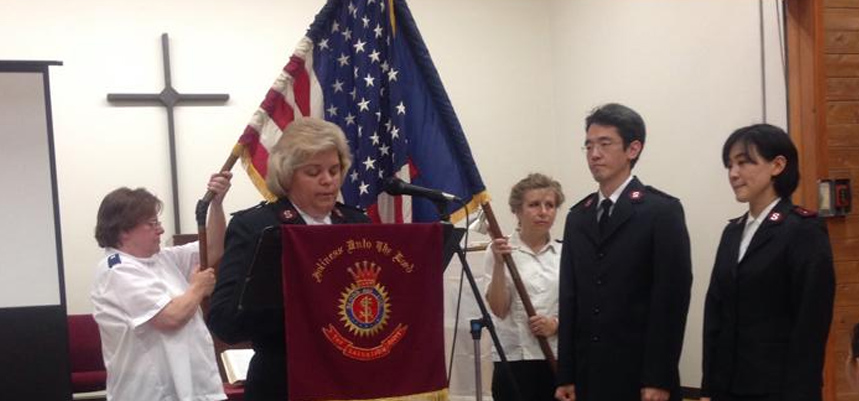 Throughout Rhode Island's 39 cities and towns, The Salvation Army operates numerous programs that seek to meet the needs of its neighbors, including: mobile community response, senior programs, academic enrichment, pastoral counseling, social development, recreational programs for children ages 6 to 12, emergency food and material assistance programs, an Adult Rehabilitation Center, holiday basket and toy distribution programs, and Corps Community Centers, which provide faith-based family and youth programs for their local communities. The Salvation Army's Service Extension program also operates in suburban and rural locations where no Corps of The Salvation Army are maintained. These Service Units provide comprehensive emergency assistance for people in these communities.
---
Recent News
Sports Clinic a Success!
You name it... they did it!
NEWPORT - Fort Adams State Park Complex hosted some of this year's VA New England Healthcare System's 2015 Summer Sports Clinic events on July 21 and 22. This event is known as a "rehabilitation through sport clinic," which is open to...

Happy to Help
Jim Gordon is Our Employee of the Year
"He Would Have Been William Booth's Friend"
CONNECTICUT & RHODE ISLAND - Jim Gordon, Director of Public Relations & Marketing, was announced as Southern New England's Employee of the Year...

Well-Deserved
Salvation Army to Offer Free Online EDS Training Course
SOUTHERN NEW ENGLAND - The Salvation Army is introducing a new online disaster preparedness course. The Army has recently created an online version of its introductory course, Introduction to Emergency Disaster Services...

Learn More
---
Help Us Help Others
Whether you contribute financially, donate goods, give your time, or support us through social media, with your help, The Salvation Army in Rhode Island can continue to reach out to individuals and families to offer a hand-up, not a hand-out. Please contact us if interested in supporting our efforts or if you are in need of assistance.