Text "WARM" to 41444 to meet needs now!

More details and celebration invitations coming soon!

When you see one when you are shopping or online!

Help us provide energy assistance to Rhode Islanders in temporary crisis!

With a Charitable Gift Annuity, Gift of Real Estate, or Gift Through Your Will.
---
Rhode Island State Office Coordinator
Major Wendy A. Kountz
Email: Wendy.Kountz@use.salvationarmy.org
---
Associate Officer
Major Theresa Burkholder
Email: Theresa.Burkholder@use.salvationarmy.org
---
Our Rhode Island State Office
34 Commercial Street, Cranston, RI 02905
(401) 490-0240 Fax: (401) 490-0185
Serving: Rhode Island.
---
Our Rhode Island Programs
Please click any of the below for more information:
---
Serving Rhode Island Since 1884!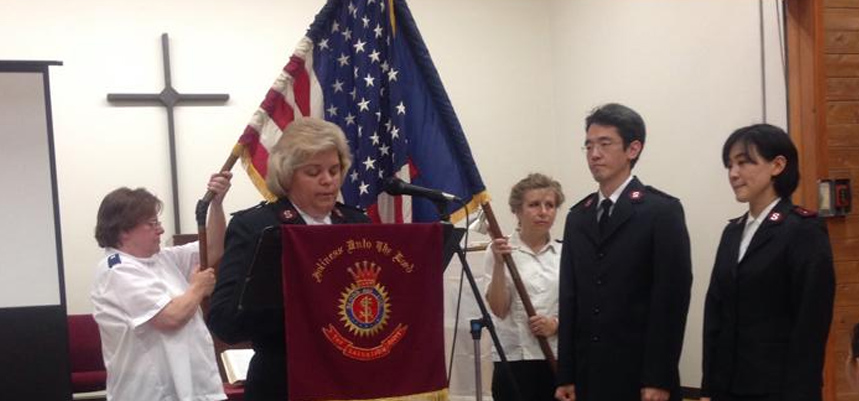 Throughout Rhode Island's 39 cities and towns, The Salvation Army operates numerous programs that seek to meet the needs of its neighbors, including: mobile community response, senior programs, academic enrichment, pastoral counseling, social development, recreational programs for children ages 6 to 12, emergency food and material assistance programs, an Adult Rehabilitation Center, holiday basket and toy distribution programs, and Corps Community Centers, which provide faith-based family and youth programs for their local communities. The Salvation Army's Service Extension program also operates in suburban and rural locations where no Corps of The Salvation Army are maintained. These Service Units provide comprehensive emergency assistance for people in these communities.
---
Recent News
Feeding Body and Soul at The Salvation Army
NEWPORT (Newport This Week) - As the Salvation Army celebrates its 150th year, Newport has its own reason to rejoice. Two new officers, with a perspective different than most, arrived last summer...

Lieutenants Bang
People's Credit Union Participates in The Salvation Army's Angel Tree Program
MIDDLETOWN, RI (CUinsight) - This program involved Angel Trees set up in the lobbies of all six People's Credit Union branches...

CUinsight Reports
Salvation Army has year-long dual mission
(Reminder News) Most people recognize the Salvation Army from the holiday season's ubiquitous kettles, or from its widespread thrift stores. But the Army's mission from the very start, and for more than 150 years, has been twofold...

Reminder Reports
---
Help Us Help Others
Whether you contribute financially, donate goods, give your time, or support us through social media, with your help, The Salvation Army in Rhode Island can continue to reach out to individuals and families to offer a hand-up, not a hand-out. Please contact us if interested in supporting our efforts or if you are in need of assistance.
---
Doing The Most Good!
Whether it's embracing the homeless, uplifting the abused or abandoned, training and mentoring the disadvantaged, providing character building programs for youth, or assisting the displaced or elderly, The Salvation Army's goal remains the same: serving the most people, meeting the most needs, DOING THE MOST GOOD!