Serving Meriden Since 1884!
In Meriden, The Salvation Army meets the basic needs of families and individuals through the Meriden Corps' Comprehensive Emergency Assistance program, consisting of an emergency food pantry, Soup Kitchen, Financial Literacy seminars, holiday assistance (food baskets and toys), and the provision of rent and utility assistance.
Its Soup Kitchen serves meals to individuals and families of low income on Saturdays and Sundays, days when no other soup kitchen is serving meals in Meriden. The Financial Literacy and Life Skills Program provides workshops and individualized coaching on topics such as economic survival (credit/debt, controlling spending, and preparing for job changes), planning for the future, resume writing and eating healthy on a budget.
---
The Pathway of Hope is a strengths-based, long-term approach to helping families leave poverty behind for good. With its design to help hard-working, dedicated families who simply do not have the means to get ahead in life on their own, Pathway of Hope provides the guidance, tools, and assistance necessary to support struggling families along the continuum of growth to self-sufficiency. Pathway of Hope focuses on possibilities rather than problems. We help families identify the skills and assets that they bring to the table before, then collaborate with them to make a plan utilizing those very strengths to improve their situation. Pathway of Hope is about going the distance and walking alongside these families in need so that they can achieve lasting change, both for themselves and their children.
Please contact our Pathway of Hope Case Manager, Janette Romero, for more information by clicking on her name or calling her directly at (203) 235-6532.
---
Feeding Programs
The Salvation Army's Soup Kitchen serves nutritious meals to those in need every Saturday and Sunday. The food pantry is available to eligible individuals Tuesdays and Thursdays.
---
Assistance Programs
Various services are available to aid our community members in crisis. We assist them in preventing utility shut-offs and provide them with food and holiday assistance (food, clothing, and toys). We use volunteers to assist in stocking our pantry, as well as aiding in distribution.
---
Financial Literacy
This program is offered to address individuals' needs to become independent and self-sufficient by giving them the tools needed to become financially stable. Please call for details.
---
Holiday Programs
With the help and generosity of businesses, schools, social groups, churches, and individuals, we were able to provide happiness to those in need during the holiday season.
---
Summer Camp
Camp CONNRI is situated on 272 acres of rolling hills in Ashford, Connecticut. Campers enjoy a wide variety of activities for a week, including: swimming, hiking, fishing, boating, baseball, softball, basketball, volleyball, nature studies, arts and crafts, and much more.
---
Weekly Schedule
Sunday
10:00 a.m. – Sunday School (All Ages)
11:00 a.m. – Worship Service
12:30 p.m. – Corps Cadets/Jr. Soldiers
12:00 p.m. - 1:00 p.m. – Soup Kitchen
Monday
8:00 a.m. - 4:00 p.m. – Pathway of Hope*
*By Appointment
Tuesday
8:00 a.m. - 4:00 p.m. – Pathway of Hope*
9:00 a.m. - 12:00 p.m. – Food Pantry
4:00 p.m. – Adult Bible Study
*By Appointment
Wednesday
8:00 a.m. - 4:00 p.m. – Pathway of Hope*
4:30 p.m. - Dinner
5:15 p.m. - Dance
6:00 p.m. - Junior Band/Percussion
*By Appointment
Thursday
8:00 a.m. - 4:00 p.m. – Pathway of Hope*
9:00 a.m. - 12:00 p.m. – Food Pantry
*By Appointment
Friday
8:00 a.m. - 4:00 p.m. – Pathway of Hope*
*By Appointment
Saturday
12:00 p.m. - 1:00 p.m. – Soup Kitchen
---
News
Clarus Commerce Volunteers at the Meriden Salvation Army
Thank you to Clarus Commerce for stopping by the Meriden Salvation Army...

Watch Video
The Salvation Army in Meriden, took part in the Rally Against Violence
MERIDEN — One speaker marched for civil rights in the 1960s, another comforted a community after the Sandy Hook shooting, and another led his congregation...

Read More
Meriden's 6TH Annual Soup, Soap and Hope Event!
MERIDEN - This was the 6th year of the Meriden Salvation Army's Soup, Soap and Hope event, which was held at the Four Points by Sheraton in Meriden on May 12th. The tasty soups were donated by local...

Read More
---
---
Our Meriden Location
23 St. Casimir Drive, Meriden, CT 06450
(203) 235-6532 / Fax: (203) 639-0422


---
Meriden Corps Officer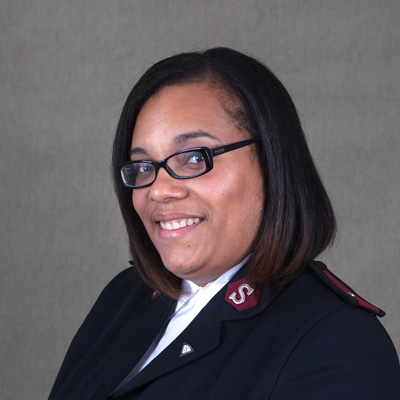 Lieutenant L. LeNissa Rivera
Email: LeNissa.Rivera@use.salvationarmy.org
---
Volunteer Today!
---
Support The Meriden Salvation Army
Text MERIDEN to 71777 or click the Red Kettle Below!
---
Proud United Way Partner
---
Proud Connecticut Food Bank Partner
---
Help Us Help Others
Whether you contribute financially, donate goods, give your time, or support us through social media, with your help, The Salvation Army in Meriden can continue to reach out to individuals and families to offer a hand-up, not a hand-out. Please contact us if interested in supporting our efforts or if you are in need of assistance.
---